Travelling safely
Covid 19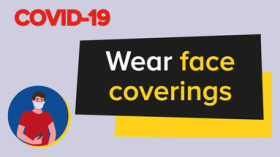 Remember to help control the Virus:
FACE COVERING - although no longer mandatory, we recommend face coverings when travelling on public transport.
INCREASE AIRFLOW - Please leave windows open to increase airflow.
SOCIAL DISTANCING - please respect social distancing where possible whilst on the bus or waiting for the bus.
GENERAL HYGIENE - Please wash your hands thoroughly with soap and water or use a hand sanitiser before and after every journey.