Fares & tickets
Concessionary Fares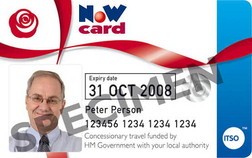 The 'Nowcard' concessionary fare scheme is a great deal for those over sixty and some people with disabilities. It allows free travel all over England, including Blackpool, Fylde and Wyre Boroughs.
NoWcard has been set up jointly by Cumbria and Lancashire County Councils, and Blackburn with Darwen and Blackpool Borough Councils, in conjunction with the District Councils of Lancashire and Cumbria.
Free travel using Concessionary Passes are valid on all our bus services between 0930 and 2300 on weekdays AND all day on Saturdays, Sundays and public holidays.
Passengers with Disabled Persons Nowcard passes can travel before 0930 for 50p per journey, Monday to Fridays.
If you are eligible for a Concessionary Pass, but have not yet got one, click here to apply.
Once you have got your pass you can jump on and off buses as much as you like – a quick pop to the shops, visit friends & family or maybe a day out.